Sexual harassment offends the very principles of what we stand for as an Organization
and undermines the core values of integrity, competence, and professionalism expected of all.
Let's support colleagues who are harassed and let's call out harassment where we see it.
— Secretary-General António Guterres
Download leaflet:  UN Secretariat Taking action on Sexual Harassment
The primary role of the CDT is to advise and support the Head of Mission on establishing measures to prevent misconduct, enforce United Nations standards of conduct and ensure remedial action where misconduct has occurred. It thus helps to ensure the prevention and identification of misconduct as well as to monitor compliance with and enforcement of the UN standards of conduct through conducting capacity building training for all categories of personnel, providing SEA awareness raising to  members of the local community. It is further receiving and recording complaints and channeling the complaints for investigation, as well as managing the CDU database to monitor and report on trends in misconduct in the Mission area. In addition, CDT acts as principal adviser to the head of mission on conduct and discipline issues involving all categories of personnel.
(The mandate of the CDT is derived from the recommendations of the Special Committee on Peacekeeping Operations, The C-34-A/59/19 Rev. 10 which were endorsed by the General Assembly Resolution 59/300 of 22 June 2005.)
CDT Contact List
Code of Conduct for all UNMIL personnel
(see AI No. 2016/087 for full version)
UNMIL personnel are, first and foremost, international civil servants, and instruments through which the UN achieves its aims and objectives.
The actions of UNMIL personnel should be guided by the values that are enshrined in the UN: fundamental human rights, the dignity and worth of the human person and the equal rights of men and women.
The privileges and immunities enjoyed by UNMIL personnel are conferred upon them solely in the interests of the Organization.
UNMIL personnel must each do their own part to create and maintain and environment that prevents sexual exploitation and abuse.
Fraud and corruption involving UNMIL personnel or third parties in relation to their work with the UN will not be tolerated.
UNMIL personnel are individually and collectively responsible for ensuring a harmonious workplace environment.
UNMIL personnel are required to follow directions issued by the Head of Mission regarding curfew and off-limits establishments.
UNMIL personnel are responsible for safeguarding the Mission's resources, using them for the purpose of delivering the Mission's mandate and to advance the interests of the UN.
Managers, supervisors and commanders serve as role models, and therefore have a special obligation to uphold the highest standards of conduct.
UNMIL personnel have a duty to report any breach of the UNMIL or UN rules and regulations.
All UNMIL personnel are obliged to comply with the UN Charter, the Universal Declaration of Human Rights and other international instruments, as well as the principles of International Humanitarian Law and the Status of Forces Agreement.
What is Considered 'Misconduct'?
In brief, misconduct is defined as any act or omission that is a violation of United Nations standards of conduct, mission-specific rules and regulations or the obligations towards international, national and local laws and regulations.
Serious misconduct can result in serious damage or injury to an individual or to the mission. These are classified as Category 1 misconduct and include:
Sexual Exploitation and Abuse (SEA),
Serious and Complex Fraud,
Abuse of Authority or staff,
Conflict of Interest,
Gross mismanagement,
all cases involving risk or loss of life or to others, including witnesses,
Substantial violation of UN regulations, rules or Administrative issuances.
(If misconduct involves high-ranking UN personnel, i.e. P-5 above, it is equally treated as a Category I case)
Minor misconduct may not result in major damage or injury to an individual or to the mission. These are  classified as Category 2 misconduct and include among others:
Personnel Matters (including harassment),
Traffic Related offences (e.g. unauthorized passengers),
Basic misuse of equipment or staff,
Simple theft (small value),
Simple entitlement fraud (small value),
Infraction of regulations, rules or administrative issuances.
Preventing and Responding to Sexual Exploitation and Abuse (SEA)
To ensure that only individuals with the highest standards of integrity and professionalism are hired, the UN conducts vetting of individuals against records of prior misconduct while in the service of a UN mission. Further, the prohibition of sexual exploitation and abuse is an essential component of training for all categories of personnel, both before deployment and after arrival in the mission. The UN and its Member States are committed to taking decisive action to uphold our shared values and ensuring accountability when these values are violated. Since 2007, the support and assistance provided by the UN to victims of sexual exploitation and abuse has been strengthened with robust policies and mechanisms, and through coordination between UN entities, NGOs and Member States.
The four main areas of action of the Secretary-General's strategy on preventing and responding to sexual exploitation and abuse (A/71/818) are
Putting the rights and dignity of victims first;
Ending impunity;
Engaging civil society and external partners;
Improving strategic communications for education and transparency
Reporting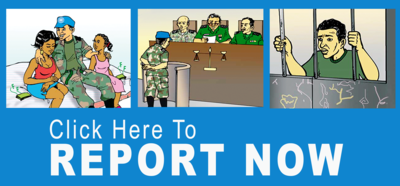 How to report acts of misconduct?
Why report?
Under the UNMIL Code of Conduct and other UN guidance, all UN personnel have the duty to report any allegations of misconduct that they either suspect or become aware of.
Reporting possible misconduct is essential for ensuring that the UN as an organization is able to fulfil its role in an efficient, professional, sustainable and respected manner. Not doing so could foster a culture of silence and perceived impunity with grave consequences for UN personnel, local stakeholders and the image of the organization as a whole.
It is vital that UN and UN personnel do the right thing, and do things right. 
When to report?
All allegations of serious misconduct should be reported immediately (i.e. within 24 hours of the occurrence of the incident or within 24 hours of any UN personnel member becoming aware of an incident); All other misconduct should equally be reported in a timely manner (i.e. within 5 days of its occurrence or within 5 days of any UN personnel becoming aware of an incident). 
How to report?
Complaints may be made to the Conduct and Discipline Team by:
Tel.: +231 77031 6262 ,  Ext: 6262
E-mail: dosomething@un.org
In person/post: Conduct and Discipline Team, Room 303A, Pan African Plaza, Monrovia – Liberia
Reports about misconduct should include the following information:
What exactly happened
When the incident(s) took place
Where the incident(s) took place
Who the involved UN personnel were – i.e. name(s), category/ies of personnel, role(s) and duty station(s), other identifying information where applicable
Who possible witness(es) to the incident were – i.e. (name(s), role(s)/location(s)/contacts)
Name and contact details of the complainant 
Allegations of misconduct can also be reported directly to the Investigations Division of the Office for Internal Oversight Services (ID/OIOS).
Allegations of Sexual Exploitation and Abuse may also be reported to SEA Focal Points. 
All allegations must be reported in good faith. Deliberately making false allegations or reporting allegations with malicious intent, if substantiated, constitute misconduct and are subject to disciplinary action.
All information is treated confidentially while according due process to all parties and taking into consideration, the safety, security and well-being of the parties involved.
UN personnel can also choose to report misconduct anonymously. If they do so, it is even more important that the report provides all necessary information (see above), so that the allegation can be followed-up / investigated without the need of additional data from the complainant.  
Frequently Asked Questions (FAQ) 
Q:  Are there any provisions in the code of conduct for an appropriate dress code for all categories of UN personnel?  
A:  While there is no provision in the Code of Conduct for appropriate dress code for civilian staff, the UN core values on respect for cultural diversity also imply that UN personnel should dress in attire that is not offensive to colleagues or local members of the host country. Uniformed personnel belonging to military contingents cannot leave their camps without wearing their uniform.
Q:  Why are DPKO disciplinary processes so time-intensive?
A: Disciplinary processes following allegations of  misconduct require time to ensure that due process rights are accorded to all parties. 
Q:  Where can I refer a complainant of Sexual Exploitation and Abuse?
A: To the Conduct and Discipline Team or the Office of Internal Oversite Services (OIOS)    
Q:  Can a woman sexually exploit another woman?
A:  Yes. Both men and women can be either victims or perpetrators of sexual exploitation and abuse. 
UN Personnel who do not have any access to INSPIRA can also complete the mandatory courses on Preventing SEA, Ethics and Integrity and HIV/AIDS in the Workplace Orientation Programme under the following link: http://portals.unssc.org/course/index.php?categoryid=1