Shpend Bërbatovci
Head • Strategic Communications and Outreach
United Nations Mission in Liberia (UNMIL)
Public Outreach is a strategic and integral component of UNMIL Public Information Office (PIO) in message dissemination in support of the Mission's mandate. Due to low literacy levels among communities, public outreach provides the platform to encourage support for peace, security, human rights, public awareness and the activities of UNMIL.It produces visual and audio content and serves it to the grass-root population in Liberia. Public Outreach is transformable and adaptable in message diffusion in respects to time and location. Since 2003, UNMIL has exploited outreach to undertake awareness raising campaigns using a two-way information exchange.
Efforts targeted at the public are carried out in alliance with key partners that include celebrity advocates; traditional communicators; and the media outlets. The outreach also works to provide information products and services to facilitate the work of Mission and its national and international partners.
Public Outreach consequently uses creative and innovative ways of sharing information such as sports, cultural events, music, dance, theatre and comedy; visuals such as billboards, posters, banners, leaflets, customized T-shirt's with messaging, wristbands etc.; road shows, and door-to-door campaigns promoting debate and awareness to specific issues as mob violence, HIV/AIDS, Sexual Exploitation and Abuse and Sexual and Gender-based violence.
Additionally, the public outreach supports campaigns and promotional events within UNMIL such as International Peacekeepers Day, International Women's Day and other significant internationally recognized events.
Public Outreach throughout 2017 elections has utilized its resources in supporting Liberia's National Elections Commission (NEC) on civic education targeted at mobilizing and sensitizing voters for the purpose building long-lasting peace in Liberia.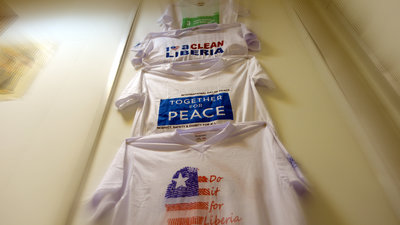 T-shirts produced by PIO for outreach.
Posters with cartoons produced by PIO for outreach.