The United Nations Mission in Liberia (UNMIL) took over peacekeeping operations from the ECOWAS vanguard force, ECOWAS Mission in Liberia (ECOMIL), on 1 October 2003. Approximately 3,600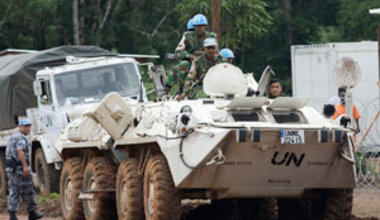 ECOMIL troops, comprising contingents from Nigeria, Benin, Gambia, Ghana, Guinea-Bissau, Mali, Nigeria, Senegal and Togo were reassigned to UNMIL as United Nations peacekeepers. As of 20 December 2005, UNMIL troop's strength stood at 14,824 personnel from 49 troop contributing countries. UNMIL started a draw down plan in August 2007 and as of 6 June 2014, UNMIL troop strength stood at 4722 personnel.
The UNMIL Force is currently commanded by Major General Leonard Muriuki Ngondi, Brig. Gen. Sabir Ali is Deputy Force commander and Brig.  Gen. Mauri Tapani Koskela is the Chief of Staff. The UNMIL Force Headquarters is located in Monrovia and has operating forces deployed throughout two sectors and supporting elements.  UNMIL Force's current authorization strength is 4739 with 43 troop-contributing countries represented, including 82 headquarters staff officers, 4524 troops and 133 military observers.  Units assigned to the UNMIL Force Headquarters are two Nigerian Battalion, one Ghana Battalion, Pakistan FQRF, Pakistan Engineer unit, Pakistan Medical unit (Level 2+ hospital), two Bangladesh engineer units, Chinese Engineer unit Philippine Administrative Company, Chinese Transport Company, Nepal Military Police Unit and Ukraine Aviation Unit.
Present Activities of UNMIL Force
Mission
UNMIL Force will continue to contribute to a safe and secure environment throughout Liberia in close cooperation with UNPOL and in support of Liberian security agencies. At the same time, Force will implement UNMIL's mandated transition and the associated three-phase drawdown plan to enable a progressive handover of security responsibilities to national security institutions
Military Observers (UNMOs)
UNMOs are deployed to specific area of operations to act as unarmed neutral and impartial representatives of the international community under the auspices of the UN. They act as the "Eyes and Ears" of the UNMIL Force and are tasked to closely monitor and identify any negative impact on security and stability. UNMOs conduct routine mobile patrols visiting preselected locations on a regular basis, aerial patrols to some areas not accessible by road, and special patrols to monitor special events or situations. The UNMOs also take part in joint patrol with military and UNPOL.
Engineering Projects
UNMIL engineers are presently engaged in rehabilitation of various roads throughout the country as well as maintenance of all main and secondary supply routes, installation and maintenance of bridges and maintenance of runways at the Roberts International Airport, Spriggs Payne Airfield and Greenville Airfield.  UNMIL engineers also engage in the disposal of Unexploded Ordnances and various Civilian-Military Coordination (CIMIC) activities.
Medical outreach
The Medical services and facilities fall within the purvey of the Force Medical Section.
The list of military medical facilities in UNMIL are.
Level 2+ Hospital in Monrovia manned by Pakistan
Level 2 Hospital in Gbarnga run by Bangladesh
Level 2 Hospital in Zwedru operated by China
A total of 11 Level-1 Hospitals integrated with units from Pakistan, Bangladesh, China, Nigeria, Ghana, Ukraine and Philippines.
In addition, a Level-4 Hospital in Accra Ghana provides tertiary care and referral facilities for Peacekeepers, on required basis. Besides looking after the health of contingent members, and training of medical staff, the Medical Setups play a very active part in the CIMIC activities, rendering valuable medical assistance to the local population, especially in far flung areas of Liberia.