Expanding the human rights space, building protection resilience
Marcel Akpovo, Chief of Human Rights Protection Service and Representative of the UN Office of the High Commissioner for Human Rights in Liberia
Mr. Akpovo is a human rights lawyer and media expert from Benin, having worked for Amnesty International and the United Nations-AfricanUnion Mission in Darfur, Sudan and for the Office of the High Commissioner for Human Rights (OHCHR) in Mauritania.
Please talk about how your background and experience enabled your work here in human rights.
As a human rights lawyer and a media expert, I had extensive experience working in conflict and post-conflict situations prior to this assignment.
For a decade, I was a researcher on armed conflict for Amnesty International, covering much of Africa. I have worked for the UN in very delicate/ difficult situations, in Darfur, for example. Prior to my assignment here, as the Country Representative of the OHCHR in Mauritania, I supported  the country's transition from a slavery-dominated context towards human rights-based community engagement. I have worked extensively  with national civil society organizations on human rights and in faith-based organizations as well, which has been inspiring and helpful for the responsibilities I have had here in UNMIL.
What were your initial impressions of the challenges you were to face?
I was shocked by the weakness of the national protection system. I was disturbed by the fragile institutional framework to promote and protect human rights. I was also worried by the sense of impunity for the serious human rights abuses committed during the conflict, and the lack of criminal accountability. However, beyond the shock, I was also impressed by how much progress was made since the last time I had been here as a journalist covering the conflict. So I could feel the positive impact of the UNMIL presence and also measure the work the UN had done in support of the national authorities. I was particularly impressed by the fragile, slow, but steady progress achieved in building a new rule of law architecture. So my challenge was how I manage this bit of hope and success against the huge gaps and human rights concerns.
Which have been your primary areas of focus during these five years?
I built on the work done by my predecessors. Their legacy provided a snapshot of the human rights situation in the country. For example I continued their work on human rights in the concessions, i.e. the exploitation of natural resources, both mineral and agricultural. I was able to establish an important new area of engagement focused on business and human rights.
Since my arrival, we made tremendous progress. One example is our support to the Independent National Commission for Human Rights (INCHR), helping to transform it from an inactive body to a vibrant commission, with a purpose, an action plan, a vision to strengthen its independence and the capacity to provide an oversight role. The last milestone was the accreditation of the Commission to the Global Alliance of National Human Rights Institutions with an A status. This is a major achievement for an institution that, until three years ago, was suffering a serious deficit of professionalism, credibility and vision.
What kind of work did this involve?
We were mentoring the commissioners and co-locating technical staff to help them develop their capacity in project management and oversight, and to develop a human rights agenda. We also had capacity enhancement projects, on how to monitor, report and do assessments. Through our technical cooperation, we accompanied the Commission as it became more independent and effective at providing support to the Government, especially in fulfilling its national and international human rights obligations.
Our work was based on mutual trust. We were a support entity and not a substitute. But more remains to be done. Only by sustaining this progress will they be able to fulfil their obligations and their role in the country. And still that fragility and vulnerability remain. We have tried to get them to understand that while they have made tangible progress, they have more to do to realize a national protection system.
Can you talk about the achievements you and your team accomplished?
The good things that happened in this country were mostly related to human rights, despite the magnitude of the challenges. We helped establish the independent Commission provided for by the Accra Agreement. We wrote the act and developed guidance documents. We supported the truth and reconciliation process, helped develop its legislation, provided technical assistance to the Commission, and supported its recommendations, including those related to redress, impunity and accountability for crimes committed during the conflict. We also helped the country re-engage with the international human rights protection system, and to initiate national human right processes including the four year action plan.
I am also proud of the role we played in supporting the interventions during the Ebola crisis. When everyone was gone, when going out became so risky, when talking to your neighbor could be fatal and lead to death, the Human Rights Section remained in the country, as part of the Mission, not only to be a key actor in the humanitarian intervention, but also to send a message of the centrality of human rights in such an emergency and humanitarian situation. We took risks to continue monitoring and reporting on human rights and protection challenges in the middle of the crisis to ensure that vulnerable people already facing the atrocity of the epidemic were not further victims of human rights abuses including discrimination, police and army brutality, or unequal access to protection, during the humanitarian intervention. We ensured that accountability to the affected populations remained the priority.
We monitored the plight of Ebola survivors and advocated on behalf of the communities who were quarantined and whose rights were restricted during the state of emergency. Through our monitoring, their voices were heard and their conditions reflected in intervention priorities.
Can you elaborate on how your work with marginalized constituencies during the Ebola crisis led to a change in protection?
In enforcing the state of emergency, the security institutions used excessive force, leading to death and injuries of civilians. Our reporting and advocacy held the Government responsible and cognizant of its obligations to protect its people. That advocacy led to drastic change in how the state of emergency was enforced, with a more human rights-based manner, and it compelled the Government to lift the state of emergency. This was an achievement as it was not easy to advocate in such a difficult situation.
The Government had, of course, the responsibility to avoid the spread of the virus and so had to restrict the movement of people. But this had to be done in a human rights compliant manner. We made them understand and realize this through our monitoring and reporting.
Another aspect was the plight of the Ebola survivors, who were ostracized after suffering through the disease. Through Ebola Rights Watch, a weekly bulletin, we shared information in Liberia and internationally, helping ensure that they were recognized as vulnerable and needing further protection.
They were integrated into the response strategy, and after the crisis, into the strategic plan of the Government, thanks to our risky monitoring and reporting. 
Just for the record, a person infected with Ebola and recovers is no longer contagious. But some were stigmatized after they recovered.
Exactly. People still saw a survivor as a sick person, representing potential risk to the community and that's the stigma. People lost their jobs and houses; families were separated; people were ostracized from their communities. During our monitoring, we noticed that access to markets in some villages became so difficult for Ebola survivors, that they were effectively banned from entering.
They were not allowed to sell their goods in markets in order to pay their children's school fees because they were associated with Ebola, and the stigmatization continues. They cannot have a normal social life or education. Our office targeted the affected communities, shared information and launched campaigns with support from other international and civil society organizations. We also involved specific government institutions, stressing that these people were human beings, not carriers of Ebola, but victims and survivors who posed no danger to the community, and their rights needed to be respected. Community resilience made the difference during that crisis, but it was supported by our office, and I am proud about that.
How was your team structured and on what areas did it focus?
It was a small team compared to other UN missions. We conducted monitoring and reporting, capacity building and advocacy. We had specific thematic areas of intervention including sexual and gender-based violence (SGBV), a major challenges in this country.
One cell was dealing with harmful traditional practices that contradict fundamental rights, e.g. ritualistic killings, female genital mutilation, and all those practices that do not conform to the country's national and international human rights obligations.
We had a team working on state engagement with international human rights protection mechanisms, which helped them to engage with human rights mechanisms including the Treaty Body, Universal Periodic Review (UPR) and Special Procedures in Geneva, helping them to build their own capacity. We had a cell that dealt with civil society organizations, among the most reliable entities of the national protection system, and we supported the establishment of a national human rights-civil society platform. We also had a team involved in mainstreaming human rights in government plans and UN Country Team engagements.
We set up a cell which provides support to agencies, funds and programs, rolling out specific policies such as protection of civilians, the Human Rights Due Diligence Policy and the Human Rights Up Front Initiative, an initiative of the UN Secretary-General to ensure the UN system takes action to prevent or respond to large-scale human rights violations. We supported the country in the fulfilment of rights for refugees.
We established expertise on business and human rights, focusing of corporations' social and human rights responsibilities, protection of workers' rights, and community rights in context of concessions and exploitation of natural resources.
We also supported the adoption of the "decent work bill," the product of accumulated interventions by us and partners to make sure that people employed in the private sector had a policy and legal framework which recognizes and protects their fundamental rights.
After 14 years, how successful has the Mission's human rights work been?
We have been successful. We have made strategic gains that require strengthening. We have created a national human right protection system, even though it remains weak. We have been part of a broad process that helped restore the state legitimacy, within a rights- based democratic context, and a rule of law culture. We were able to unlock some very difficult attitudes facing people with different sexual orientation, the LGBT community who remain largely ostracized and discriminated against by law, by culture and by societal beliefs.
We were able to raise the fundamental issue of respect to all and the right to be different. We were able to frame the protection of the LGBT community as an issue of rights. While we succeeded in constituting a forum within the police to be sensitive to the protection needs and respect of LGBT Liberians, hostile attitudes persist. Peoples' perceptions and the overall attitude of Liberians, within and outside the Government, towards that particular minority group is still a concern.
Could you explain the unique dual reporting lines for UN human rights officials in the field—to the Mission and to the High Commissioner's office in Geneva?
This dual reporting has been a rich experience. At the mission level, most of the time, the political contingency hijacks the human rights brief, and you can sometimes, if not often, step on the toes of the political agenda of the mission just in pursuing independent human rights reporting. It can prevent you from achieving anything. Fortunately, that was not the case with UNMIL.
The dual reporting demands that I report on substantive issues to OHCHR in Geneva, and to New York (UN Department of Peacekeeping Operations) on both substantive and administrative issues. This gives me leverage most Mission colleagues do not have. People would tell me I have one foot in and one foot out.
That was OK as long as we were not contradicting each other, and working in the same direction. I see that as an enabling arrangement. All human rights components in peace operations are governed by a policy signed between the OHCHR and the UN departments of peacekeeping, field support and political affairs—all in New York, which establishes clear guidance on how human rights work should be conducted. I also led the development and implementation of the protection of civilians' strategy.
I represent OHCHR at the UN Country Team. Other colleagues have faced different challenges, and I have also experienced difficult situations when I was torn between two strong forces pulling in many directions. In other missions, public reporting can be seen as counterproductive to the political agenda of the mission.
Here I have served under two different Heads of Mission. SRSG Karen Landgren believed in the human rights agenda and supported my public reporting. The second, SRSG Farid Zarif, also believes in human rights and uses it to support his good offices function. He knows that both are antidotes that mutually reinforce each other.
Here we have used good offices to strengthen human rights and vice versa. The effectiveness of dual reporting mostly depends on personalities and the human rights culture of mission leadership.
If human rights informs the political agenda and the political agenda enables human rights work, what are some of the mission's actions that opened the door to human rights work here?
Whenever there was a situation potentially threatening peace and stability, the office of the SRSG was immediately called to help address it through his good offices function.
As part of our protection of civilians' mandate, we developed an implementation strategy based on prevention, echoing one of the key recommendations of the High Level Panel on Peace Operations (HIPPO) report, which indicates how good offices and the primacy of politics can prevent a crisis from becoming a fully blown conflict.
There had been a lot of arbitrary arrests and detention cases that led to a kind of stalemate between human rights defenders, civil society organizations and the Liberian Government. We use the SRSG's good offices to demonstrate that it is in the interest of the Government to respect human rights, to protect human rights defenders rather than suffocating them. It has been very effective and helped us prevent conflicts and protect human rights defenders.
Through the SRSG's good offices, two social conflicts with potential human right consequences were successfully addressed. In February 2017, UNMIL's intervention helped avert confrontation between security forces and members of the Patriotic Entrepreneurs of Liberia during protests over the high cost of consumer items. The SRSG helped maintain calm in March 2017 when the Armed Forces attempted to evict by force former members of the Anti-Terrorist Unit and their families from the 72nd Barracks.
Another example was the Government initiative to clean up Monrovia which led to a wave of brutal eviction operations targeting people said to be illegally using public domains. The operation caused massive destruction of property. Schools were affected as well, and the issue was about to create a serious security challenge and then a crisis. While we succeeded in constituting a forum within the police to be sensitive to the protection needs and respect of LGBT Liberians, hostile attitudes persist. Peoples' perceptions and the overall attitude of Liberians, within and outside the Government, towards that particular minority group is still a concern. Expanding the human rights space, building protection resilience 109 Using good offices, we advocated for the rights of the people under eviction and helped the Government to agree to and develop an exit strategy. This preventive approach to crises using a human rights engagement has been useful and effective in this Mission. The use of good offices to address human rights and protection of civilians' challenges should be shared with other missions as best practices, adapted to each reality as much as possible.
There are plans for a stand-alone human rights office in Monrovia after UNMIL leaves. What has been your focus at the end of the mission?
Our work has been based on the mandate of the Security Council: first, to ensure protection of civilians and second, to support the national human rights institutions in monitoring and reporting with specific attention to women and children.
At the end of the Mission that mandate implementation should continue. From a strategic point of view, that meant to continue to support the mainstreaming of human rights and building national protections niches, mechanisms and capacities to ensure national ownership and continuity in protection of civilians' intervention. We have continued monitoring and reporting, and supporting the Independent National Commission on Human Rights, targeting sexual and gender-based violence and within that, rape, domestic violence and female genital mutilation.
We also helped formulate policies and recommendations for a framework that protects women's rights and those of the victims of certain practices in the country. We just issued a joint OHCHR/UNMIL report on accountability for rape, a critical human rights issue affecting the country. If not addressed, the situation will continue deteriorating, and rape will become a factor for future crisis.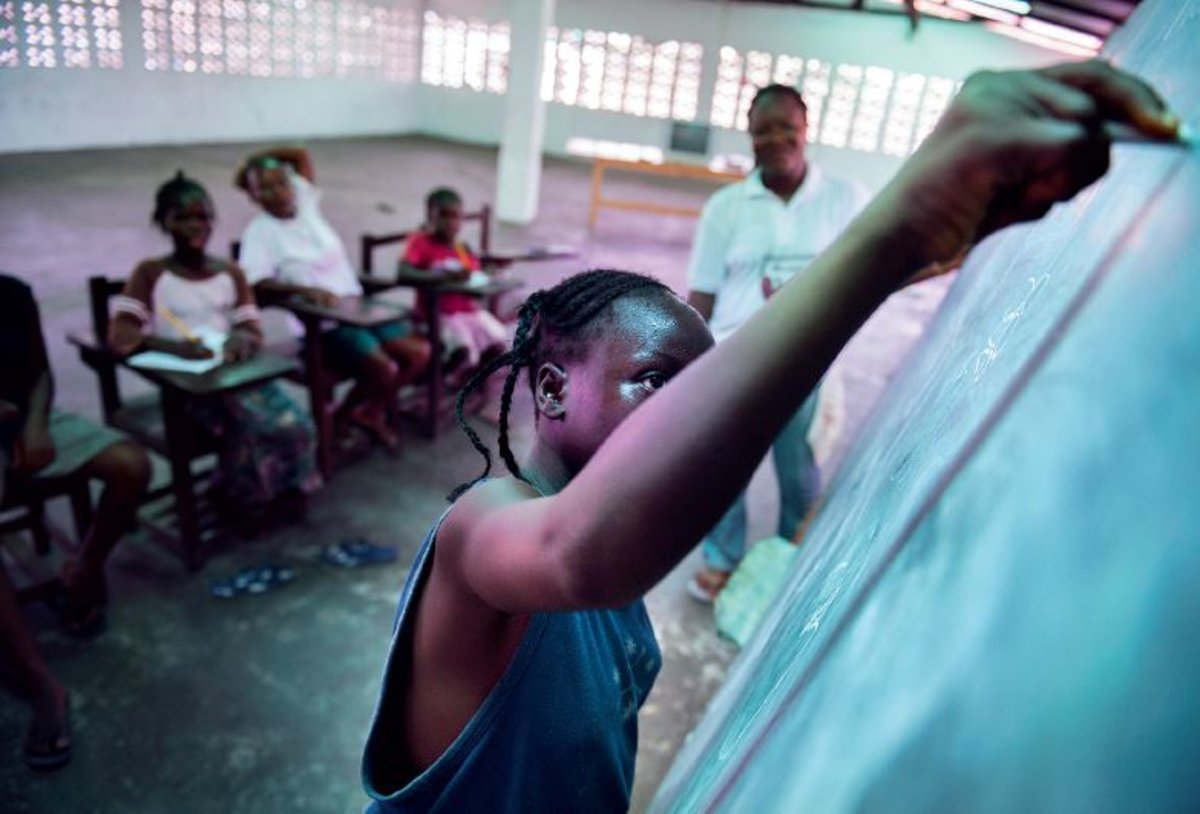 A young female rape victim taking a class at a safe house in Osiwa Village, a camp for displaced people in Monrovia. Photo: Christopher Herwig | UNMIL | 25 Mar 09
Accountability for sexual and gender based violence will help reduce rape incidences and serve as a deterrent. Even though Liberia's laws are strong, their application remains flawed, because of the weakness of the judicial institutions, because of corruption and because of the slow processes and lack of resources for the adjudication of cases. So we have been supporting the national institutions to respond more effectively and accountably to SGBV cases. We have supported magistrates, judges, the police and civil society organizations--all part of the process of that accountability. Here, for every 200 cases, 10 are prosecuted. There are so many reasons why the others don't proceed, including the weakness of the investigative processes and of the capacity of people conducting investigations to collect information that can used in court. These are all issues challenging human rights practitioners and have been our core priorities at the Mission's end. We also supported the domestic violence bill that would have criminalized SGBV.
But that specific provision was removed when the bill arrived at the Legislature. Another initiative has been to help build stronger civil society organizations to play a checks-and-balances role in terms of human rights, by providing technical and financial support. And we have been implementing a major project review of the situation of lesbian, gay bisexual and transgender people with the aim of helping to develop more human rights protections. We have been building a foundation for the new UN human rights office, which will take up these core issues.
Can you talk about decentralization and the concept of bringing government services to the people at the local level as a human rights approach?
Decentralization in Liberia is a major governance requirement that cannot be achieved only through policies and law. It has to include a fundamental cultural revolution, a paradigm shift which is not just about policy, but a mindset change as well. I am very supportive of the service centres now in the counties, offering basic services to Liberians living in remote areas. This must be supported to help people access specific socio-economic rights. Civil society organizations are critical in that process, to oversee the centres' functioning. It makes no sense to have service centres in the communities only to add new layers of corruption or discrimination. Those groups can ensure that the decentralization moves are human rightsoriented. I have spoken to these groups on their role, not only in supporting the process, but in providing oversight, observation, responsibility and analysis. When the decentralization law is passed, only civil society and pressure groups can help ensure effective implementation, for the benefit of the people. There remain a lot of niches of intervention, engagement and responsibility that need to be developed.
How do civil society groups measure government compliance with human rights norms?
The centralized system disfranchised the community of their fundamental rights. In the platform we created, there is a component on civil society support to decentralized governance. We supported them and sensitized them, to do robust monitoring and oversight of the decentralization processes so they remain people centered.
Regarding harmful traditional practices, referred to by some as a sort of systemic patriarchy that keeps certain groups marginalized. How do you see the role of human rights in addressing these practices?
We issued a public report on the subject, highlighting the conflict between human rights and some of these practices. It is right to expand the concept from practices to attitude.
This is what we stressed. Those practices comprise among others, witchcraft, FGM,* ritualistic killings, all forms of beliefs that are contrary to Government's international human rights obligation.
The country is facing another challenge in its patriarchal culture. Women must be submissive; the man's word must be respected—these longheld beliefs prevent integration and equal access to services and national resources.
Despite the fact that Liberia has had a female President, there are still disparities and discrepancies between the male and female in political participation and access to resources due to the very conservative traditions, including education and cultural beliefs.
Unless Liberia reconciles itself with human rights norms and its international obligations, it will not be able to address the harmful practices challenges it faces and draw benefits from its other rich traditions and cultural heritage.
We are not launching a "etat de siege" or an attack on traditions, as we believe that any sustainable development must be rooted in culture and traditions. But when those traditions contradict universal human rights values, they become counterproductive to development. We have told Liberians that we want to help them protect their culture but to fight practices which are in conflict with international norms. We still have a long way to go. We took a creative approach to looking into accountability for sexual violence in the country, asking how traditional communities see the whole issue of SGBV.
Female genital mutilation, for example: how can you make people understand that ritualistic cutting is a crime! This remains a challenge and we have reached out to all 15 counties, targeting women and traditional leaders to have a conversation. It is important to pursue this. We do not need to impose it, but to be in a conversation with them so that they start realizing that some practices need to be changed. People must understand that killing can never be a tradition and that trial by ordeal goes against every known criminal justice principle.
A ritual killing is homicide, not a tradition. You do not beat someone because he or she is suspected of witchcraft: that may amount to torture or ill-treatment in international human rights law.
It is essential that we need to simplify the language and help them understand that some traditions are good and need to be preserved and some others that are not good at all. Beyond laws and policies, I am afraid it will take generations to effect such change, but we have to start somewhere. I know that we are trading in a very difficult market, but still we have to do it, because in the long-term it is not useful for this country. Liberia must come to terms with that.
Looking at the future, what is the prognosis for human rights in Liberia? Where are we today?
It can seem we are still nowhere given the persisting challenges and daunting tasks ahead. I happy and proud of our contribution, but realistically the remaining field is still immense. The national protection system is still weak. The national Human Rights Commission has made progress but remains a fragile institution whose capacity needs to be strengthened.
That is why it is important for the OHCHR to be here. The civil society groups that are usually independent voices, with the role of checks and balances and oversight, are still scattered. They are not present in the counties. They're poorly resourced; they lack vision and they are weak in professional capacity. Unless we address this, national protections will remain vulnerable and the protection of the people very problematic. Reconciliation is still a major challenge in this country. Human rights abuses and discrimination are some of the root causes of the conflict that have not been fully addressed yet.
Accountability as a fundamental component of sustainable peace and reconciliation has not been achieved yet and that is worrying. Too many alleged criminals are enjoying total impunity, and unless this is addressed, no one will feel safe. Not a single person has been prosecuted in Liberia for crimes committed during the conflict. Charles Taylor is serving a sentence in the United Kingdom, not for the crimes committed in Liberia, but during the conflict in Sierra Leone.
There should be a strong message to the people that justice and accountability are key and that people who have committed serious crimes will not get away with it. Unfortunately, we have individuals who allegedly committed crimes during the conflict and who still hold powerful positions in the country, and that is terrifying. Understanding the conflict between justice and peace and also the fragility of the political context, I still believe that the total absence of criminal accountability in the country is a collective failure.
Do you think that national reconciliation, accountability, some sort of retributive justice should be higher priorities for human rights to be strong in Liberia?
Absolutely. Liberian authorities have created an ambivalent rapport with the notions of restorative and retributive justice. One should not exclude the other. In the communities you find reconciliation formulas like the Palava Hut, a traditional mechanism for settling disputes. This can create a context for reconciliation especially with minor crimes. There is a memorial for those who died during the conflict, a solid sign of reconciliation and a message that restorative and retributive justice are not in conflict. However, criminal accountability has been totally silenced.
This country needs a transitional justice agenda. A fair, sound, comprehensive agenda is critical for sustainable peace and reconciliation, and that agenda should include the effective establishment of judicial mechanisms to hold accountable people who have committed crimes. Unless we do that, Expanding the human rights space, building protection resilience 113 we cannot reconcile this country. Post-conflict histories across the world have taught the same story over and over again.
When reconciliation is not rooted in justice, it remains weak forever. When people who have suffered abuses do not see any sign of accountability, when they don't see justice, peace may be unlikely and reconciliation fragile and elusive. So I am calling on international partners, on donors, on the UN to realistically, strategically and carefully think about how to bring transitional justice to the table.
There are many crimes committed during the Liberia conflict that are not eligible for prescription in international law. We must build a strong strategy for transitional justice to build a sustainable peace. This has to be the way forward for Liberia, in addition to the huge development agenda that lies ahead. The future of this country lies in justice for victims and human rights protection for all. The Office of the High Commissioner on Human Rights, the UNCT and all Liberian friends will help achieve it.
Do you have confidence and hope for the future of this country?
I am a hopeful, positive person. Twenty-five years ago when I was leading human rights and faith initiatives, I traveled around Africa, working with youth and students.
I told my peers in Kinshasa, in the middle of the conflict at the time of the Mobutu regime, to be prisoners of hope, let yourself jailed by hope, be hopeful at any cost, but work for your hope. Hope that something great and good is going to happen and be part of it. I believe that Liberians will get out of this situation, if we support them as they decide to go deep within themselves and find their resilient capacity.
What message would you give to Liberians?
Believe in yourselves. It is difficult to talk about a Liberian identity as this is a country with inequalities based on origins--the so-called natives and the American Liberians factor.
There seems to be no sense of 'Liberianity' and that's why, perhaps, they should believe in togetherness, a shared destiny as one nation.
And what you say to the internationals who are continuing on?
To invest in Liberians, support their efforts. We haven't done enough of that. It is important that partners support and invest in Liberian projects and let them take the lead, with their own capacity to fail and to recover. Liberia is the oldest republic in Africa, yet one of the most fragile. At some point, we need to trust Liberians, especially the youth and women, and invest in them. I regret that when there was a chance to shape the destiny of Liberia, as UNMIL, we failed to do so. Now that Liberia has a sense of its own sovereignty, it will be difficult to influence its policymaking, without being accused of interference.
There was a time when the UNMIL budget was bigger that the Liberian budget. That's when without imposing, we could have helped them move towards sustainable peace and reconciliation, and we did not do it. We were not strong in pursuing the criminal accountability agenda for justice and reconciliation, when we had the political leverage, financial resources, the trust and the mindset of the people.
We failed to use those comparative advantages to influence the justice choices. I am glad for the 14 years of peace, but this peace is still fragile. We could have strengthened it further, made sure there was more robust justice and accountability. It would have been a different story, but all the same it was a successful Mission.